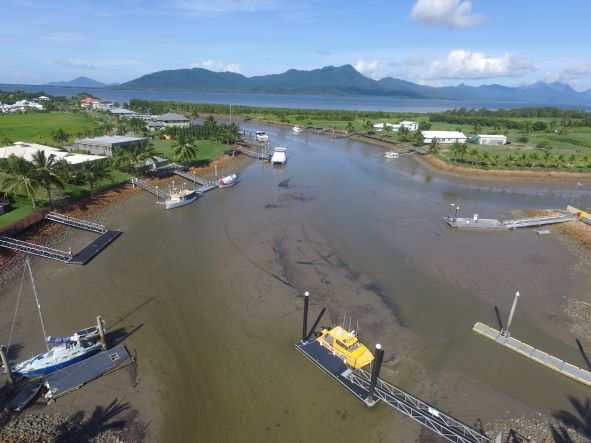 All systems go for One Mile Creek emergency dredging
All systems go for One Mile Creek emergency dredging
Katter's Australian Party (KAP) Deputy Leader and Hinchinbrook MP, Nick Dametto is relieved for Cardwell's residents following Mayor Mark Nolan's announcement that the Council has received correspondence from the Deputy Prime Minister stating the Commonwealth is looking to release the $1.5m funding for the One Mile Creek emergency dredging project.
The One Mile Creek emergency dredging project is funded through the Australian Government's Community Development Grants Program.
"After a relentless amount of lobbying and banging on Ministers' doors, the Federal Government has finally coughed up the $1.5 million commitment made by the LNP in the lead up to the last Federal election," Mr Dametto said.
"It's taken a lot of hard work from all stakeholders involved to get to this point.
"Thank you to the Federal Government, the Honourable Bob Katter, Queensland State Development, and the Cassowary Coast Regional Council for each of their involvement in securing the emergency dredging funding for One Mile Creek.
"The condition of One Mile Creek has raised some serious safety concerns with residents and visitors over the years. For example, the Cardwell Coast Guard has not been able to respond to any potential distress calls due to the vessel spending most of its time high and dry in the mud.
"Restoring all tidal access at Port Hinchinbrook will revitalise tourism and stimulate Cardwell's economy. Also, access to the public boat ramp will draw in boaties from all over the North looking to fish the Hinchinbrook Channel and nearby reefs.
"Cardwell residents have been living in limbo since Cyclone Yasi and although we are some way off from full normalisation of Port Hinchinbrook this is an important step forward and I'm sure today will be celebrated by many residents."
During the radio interview with ABC Far North Queensland, Mayor Mark Nolan stated it is looking very positive for the community.
"Last Friday, CEO Andrew Graffen received correspondence from the Deputy Prime Minister Barnaby Joyce in relation to the funding of the One Mile Creek emergency dredging and the Commonwealth is looking to make a release in regard to the funding," said Mayor Mark Nolan.
The Hinchinbrook MP thanked the Cardwell community for their advocacy on the matter and looks forward to Council progressing with the request for tender procurement process and awarding the successful tender.
Donate Now
Change starts with you