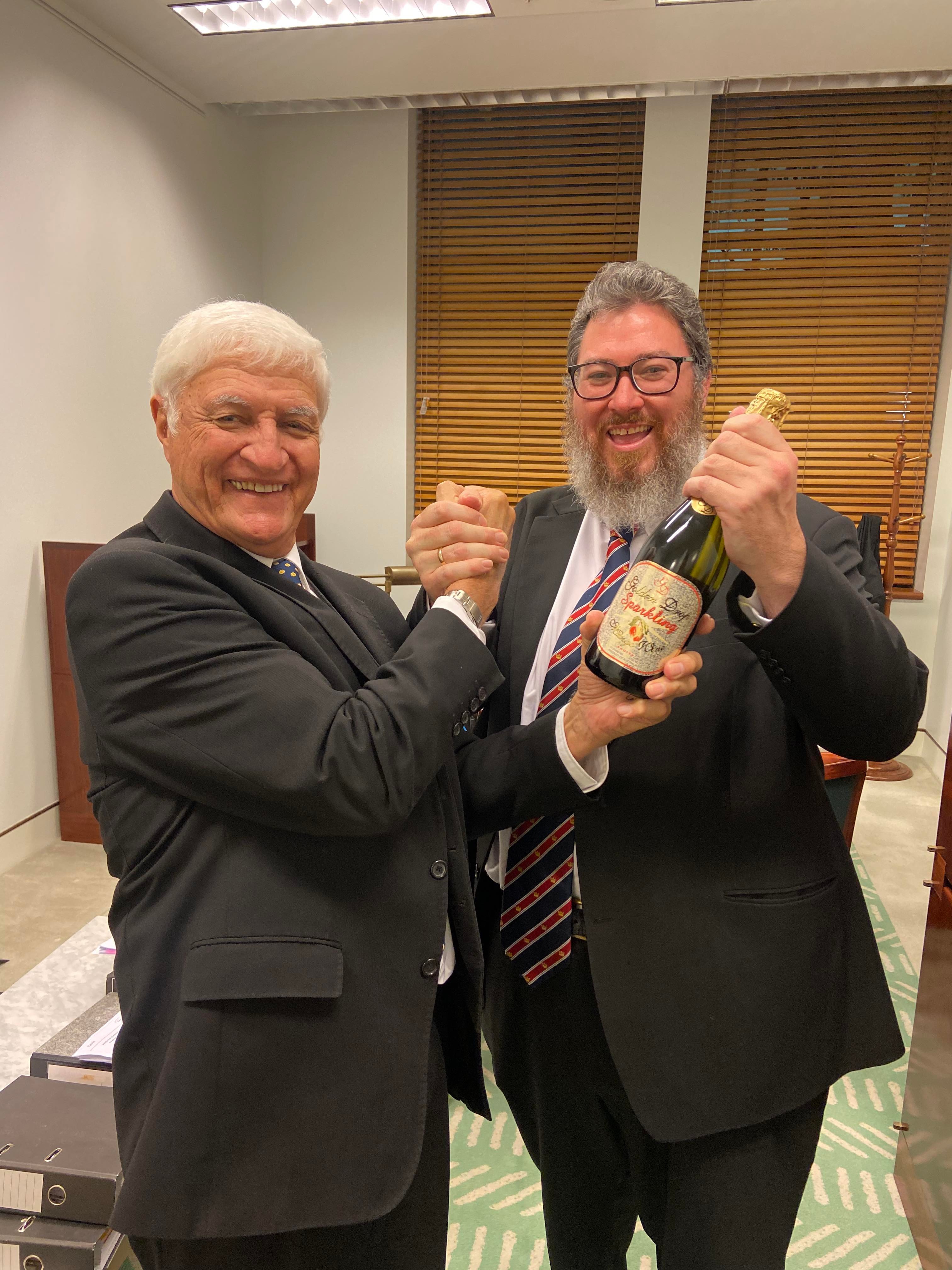 Cyclone Reinsurance Pool gets green light from Federal Parliament
Cyclone Reinsurance Pool gets green light from Federal Parliament
KENNEDY MP, Bob Katter, has celebrated the Reinsurance Pool for Northern Australia passing its last parliamentary hurdle, the Senate, by popping a bottle of Golden Drop Mango champagne with neighbouring Dawson MP, George Christensen.
The cyclone reinsurance pool which will bring down the cost of living in North Queensland, is the result of a decade long fight for action on the region's skyrocketing insurance premiums.
"The thanks here are owed to the Townsville and Hinchinbrook Chambers of Commerce," Mr Katter said.
"A survey by the Townsville Chamber of Commerce found that 25 percent of the homes in North Queensland were uninsured.
"We pay $4000 for insurance per house, whereas in the rest of the country they pay $1500 per house. The oppressive rate of strata title insurance meant we couldn't get bank finance to build new apartment blocks in North Queensland.
"Allianz said if there was a reinsurance pool for North Queensland, they would provide insurance at the same rate as the rest of Australia. We have now got that insurance pool which comes into effect on July 1, and residents should see significant savings on their premiums."
Mr Katter said action on insurance should have come earlier than 2022.
"In 2014 we built a big head of steam and got massive national publicity out of holding two public meetings with the Chairman and CEO of the Insurance Council of Australia to discuss solutions to sky-rocketing house insurance premiums," Mr Katter said.
"A Liberal MP, who will remain unnamed, knew he was in trouble and called an inquiry. It took the steam out of our push and derailed the train.
"I do however praise George Christensen. He came out in a press conference in Townsville calling for reinsurance which kicked off the fight again. Last night we popped some champagne, but neither of us drank it because we are both teetotallers."
Donate Now
Change starts with you