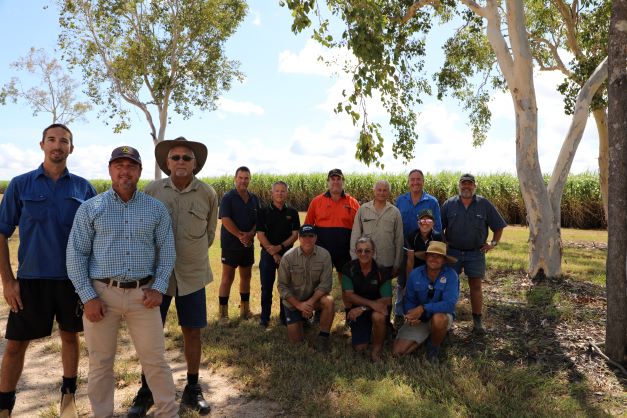 Dametto heads back to the cane fields ahead of reef regs vote
Dametto heads back to the cane fields ahead of reef regs vote
With a vote on his Environmental and Other Legislation (Reversal of Great Barrier Reef Protection Measures) Amendment Bill 2021 approaching, Katter's Australian Party (KAP) Deputy Leader and Hinchinbrook MP Nick Dametto has this week gone back to the grassroots reasons behind the bill.
On Thursday Mr Dametto held an on-farm meeting with local growers in the Burdekin region to brief them on the status of the bill – during the recent parliamentary debate, both major parties signalled their intent to vote the legislation down.
"The Katter's Australian Party introduced this Bill with the aim to put into practice what North Queenslanders farmers have been calling out for, and that's for Labor's 2019 reef regulations to be reversed," he said.
"At the end of the day, the Bill has been introduced for the farmers; it's really their Bill and we have been proud to present it.
"The industry has long been innovating their practices, and they're not necessarily doing this because the State Government is waving around a big stick and massive fines.
"They're doing it because, by and large, they've always been excellent managers of the environment.
"People like this should be commended for feeding the nation and the world, not treated like environmental vandals.
"My election promise back in 2020 was to hold Labor to account and repeal these farm-destroying reef regulations; this Bill goes to show that the KAP talk the talk and walk the walk."
The Burdekin's Sam Curro, who has been a cane farmer for most of his life, said growers only wanted a fair go.
He said most growers had willingly invested time and money to make their on-farm practices more efficient and to mitigate what, if any, effect they were having on the environment.
"(The 2019 reef regulations) are: time-consuming … they take away from our productivity and we find they are a hindrance to what we are trying to achieve with our own goals.
"Amongst all the farmers I associate with, I don't know anyone who is wasting chemicals, fertilisers or water – we are all trying to be as efficient as possible, particularly with some of the (input) costs we are incurring at the moment with the overall rising cost of productivity.
"We need assistance from the Government, not hindrance when trying to make our practices smoother."
Mr Curro said he had serious concerns for the next generation of farmers, who had to bear impossible levels of responsibility due to the growing regulatory burdens.
"These days, not only do you need to master the art of growing cane, but you need to be an accountant, a lawyer, an agronomist and then go out and have to do mechanical repairs and be a boilermaker on the side," he said.
"It's a hard task to be a farmer these days." 
Donate Now
Change starts with you