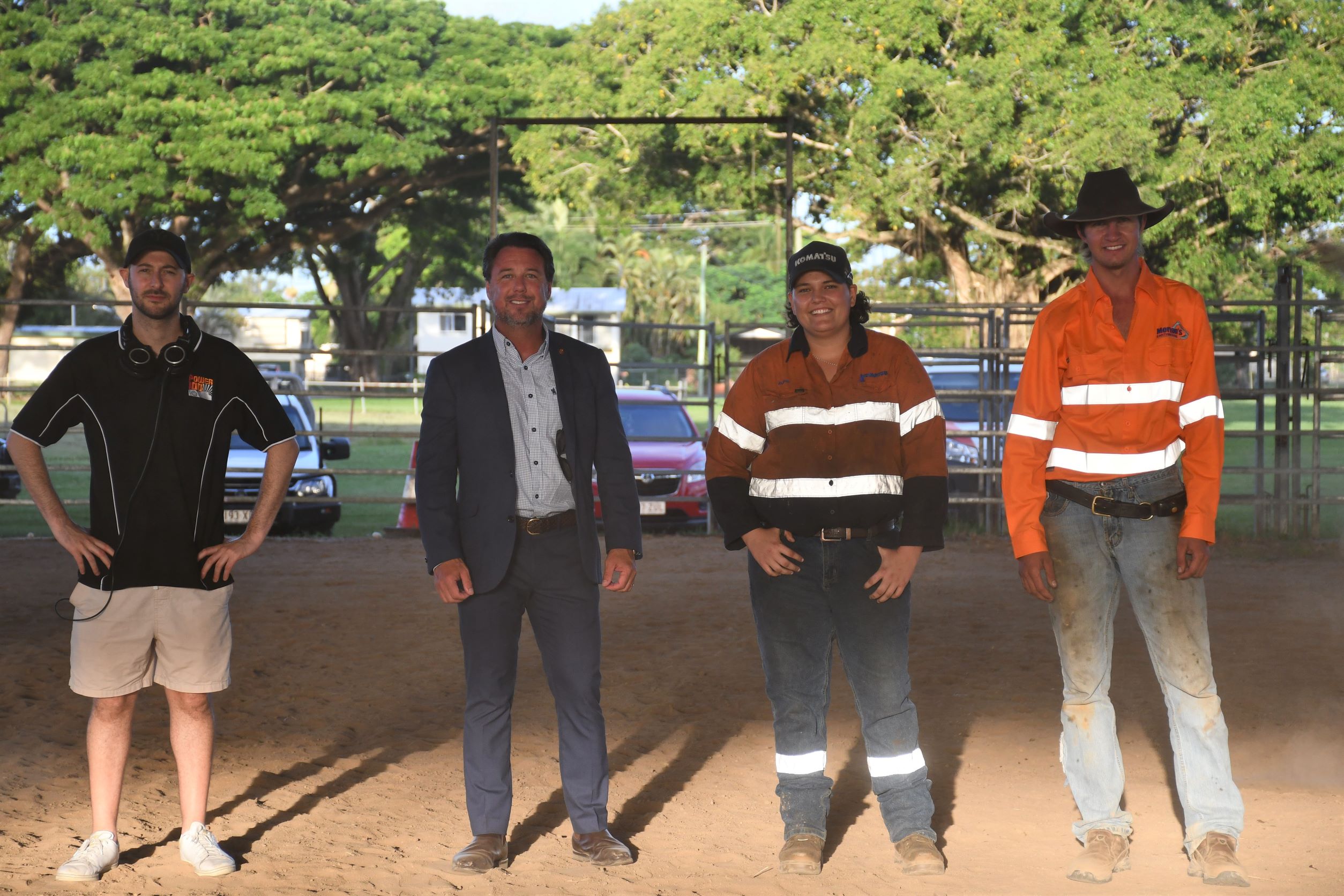 Dametto welcomes 2022 Charity Bull Riders
Dametto welcomes 2022 Charity Bull Riders
Katter's Australian Party (KAP) Deputy Leader and Hinchinbrook MP Nick Dametto is getting ready to once again pull on the spurs as he joins a mix of locals and a radio celebrity to raise funds for charity at the annual Ingham Sugar City Rodeo.
This year's annual Ingham Sugar City Rodeo will be held on Saturday 14th of May at the Ingham Showgrounds, with the official opening ceremony commencing at 6pm.
For the past three years, Mr Dametto has challenged novice riders in a charity bull ride in the name of raising important funds for a variety of causes.
The Hinchinbrook MP said although he was reluctant to once again ride a bucking bull, there was unfinished business and he intends to get back in the saddle each year until he hits that magic eight second ride.
Mr Dametto said he would follow tradition this year and donate his share of sponsorship to Audrey's Angels of Hope, once again riding in memory of Judy Reardon.
"Audrey's Angels of Hope is a charity that provides cancer sufferers and their families crucial financial, emotional, and social support. It's a valued charity that relies on donations to support the community," he said.
"Last year, we smashed our target and raised over $5,000 in total, thanks to the community's support and generosity.
"When it comes to supporting local charities, the people of Hinchinbrook have always dug deep to support those in need and I'm sure the entertainment value and the prospect of seeing local identities being menaced by a bull has inspired them in the past to give a little more.
"This year we have all walks of life taking on the bulls, there's Power100's breakfast radio presenter Archie Arenson, Komatsu's 3rd-year apprentice Alana Romano and machine operator Jonty Collins-Furber."
Archie Arenson, breakfast radio presenter on Power100 was challenged to be part of the Charity Bull Ride by one of the organisers and is raising funds for the Black Dog Institute.
The Black Dog Institute is passionate about making a change in the mental health space and is an Australian charity that offers support to locals.
"With a number of my close male friends in recent years struggling with their mental health, I'd love to do something to help fund the research that goes into further understanding all aspects of it," said Mr Arenson.
Alana Romano, who was born and bred in Ingham, recently moved to Townsville to pursue a career in diesel fitting with Komatsu and is excited to be a part of this year's Charity Bull Ride.
"I will be raising funds for the QCWA Long Pocket, this non-for-profit organisation is important to me as it supports the small community town I grew up in," said Ms Romano.
"I'm excited to participate not only to help raise money for local not-for-profit groups but also to jump in and mix in with the boys.
"After being asked, I thought it would be a great way to help my local community and show not only young girls but all young kids that they too can do whatever they put their mind to.
"I'm super excited to be a part of this and hope the Charity Bull Ride continues, the Ingham Sugar City Rodeo Committee does a great job of putting this event on every year and it gives everyone a bit of a laugh. Hopefully, it will be a quick eight seconds!"
Machine operator for Morton's Earthmoving, Jonty Collins-Furber is eager to get the adrenaline pumping and ride in honour of his close mate Will Murdoch.
"Willy was extremely talented, and he knew how to ride bulls," Mr Collins-Furber said.
"The charity I'm raising funds for is Angel Flight as it helps coordinate non-emergency flights to assist people who live in isolated areas to access specialist medical treatment."
To donate to this year's Charity Bull Ride, please visit the GoFundMe page https://gofund.me/4f444a15  
The total amount of donations will be split equally, and each rider will donate their share to a charity of their choice.
The rider with the best time will receive an additional $500 to donate to their selected charity thanks to the Ingham Sugar City Rodeo Committee.
The riders are encouraging Hinchinbrook to get behind them and watch the Charity Bull Ride on Saturday 14th of May.
The only question that remains is: who will stay on for eight seconds?
Donate Now
Change starts with you