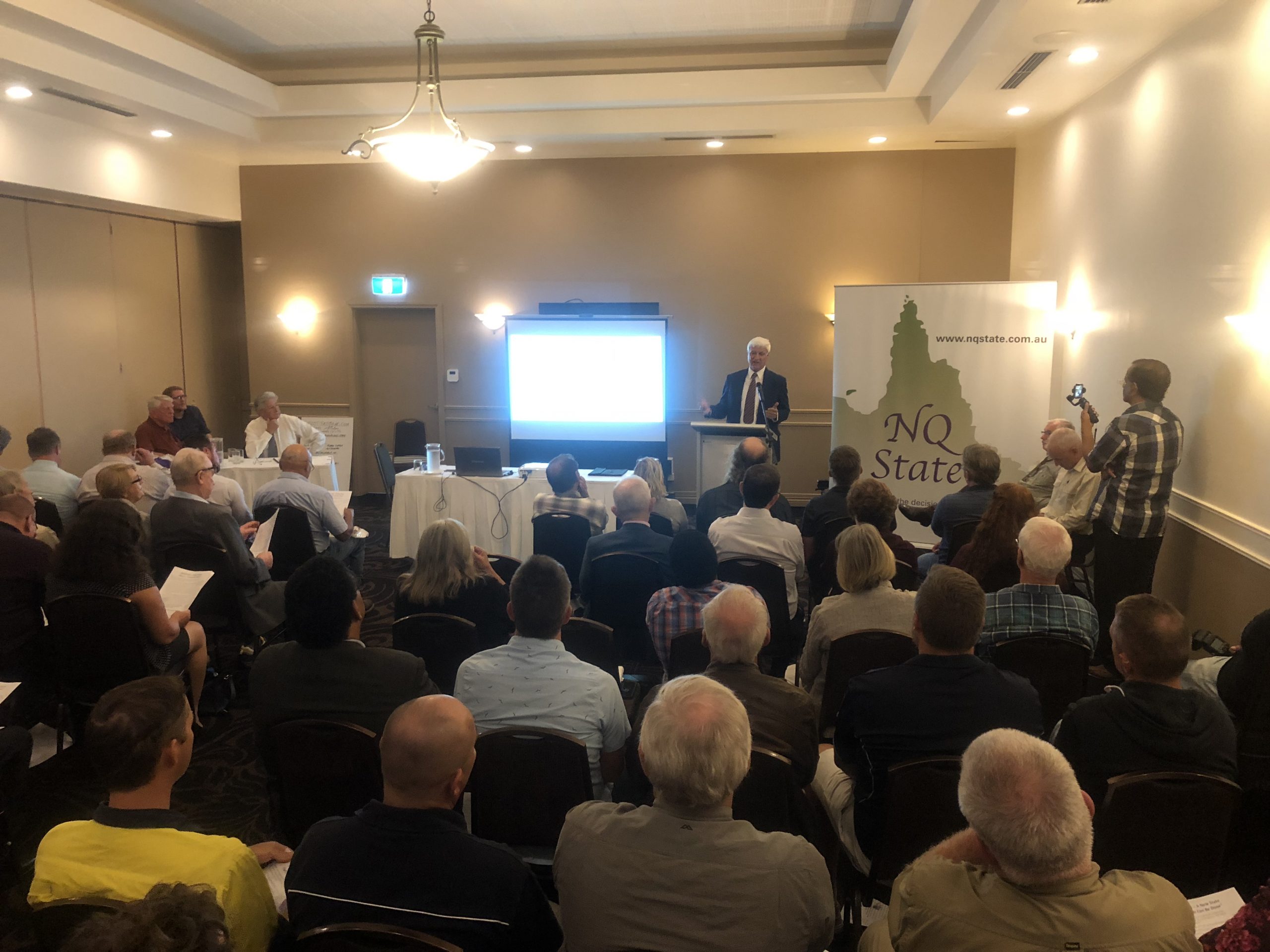 Goal-posts in front, range is good; FNQ prepares to 'Boot Brisbane'
Goal-posts in front, range is good; FNQ prepares to 'Boot Brisbane'
KAP Leader and Federal Member for Kennedy Bob Katter spoke to a packed boardroom at the Brothers Leagues Club in Cairns last night on the likely influence of a separate North Queensland state.
The 'Boot Brisbane' New State Forum gave the public a chance to hear from and ask questions to a number of economic and industry experts as well as KAP Senator Fraser Anning and State Member for Traeger Robbie Katter on the benefits that would be afforded to residents of the 'new state' and the political landscape from both a state and federal perspective.
Mr Katter said there had never been a better time to call for a division of the state as the far north continues to be neglected in both state and federal budgets.
"The State Government has committed $7.5 billion – $2 billion for pleasure domes and $5.5 billion for yet another tunnel in Brisbane.
"There's just no way that a budget of $54 billion can take a hit of $7.5 billion and have something left over for the rest of the state and the further away from Brisbane then the less money you will get. While they've got $5 billion to improve their transportation systems, four years ago we did not get a single cent for road improvement in North Queensland except for a roundabout at Port Douglas that was it. We got a roundabout at Port Douglas worth half a million dollars and Brisbane got $3 billion for tunnels and this is going to go on."
Mr Katter accused the governments of failing to understand industry and economic development in the North.
"You are not allowed to use a drop of water for irrigation in North Queensland except if you make outrageous, corrupt payments to political parties – that's the only way you'll ever get a drop of water in North Queensland for irrigation and yet, if North Queensland were a separate country we would be the wettest country on earth.
"We've got these huge resources and we're not allowed to use them so we can't develop. We're not allowed to dredge the Port of Cairns; one of most significant tourist destinations in the world.
"There are 10 million feral pigs running around North Queensland and if ever there was a destructive animal, it's a pig and we've got no rifles to shoot them.
"Our greatest recreation facility is our creeks and rivers but we can't use them anymore, they've been taken off us. You say in Queensland that your kids can go down the creek and fish and play, they can make slippery slides on the banks; but in North Queensland we've had our waterways taken away from us from the explosion in crocodile numbers.
"What you do in North Queensland does not exist as far as Brisbane is concerned. It's not that they hate us, it's not they don't care; we just don't exist for them. We simply do not exist."
Donate Now
Change starts with you