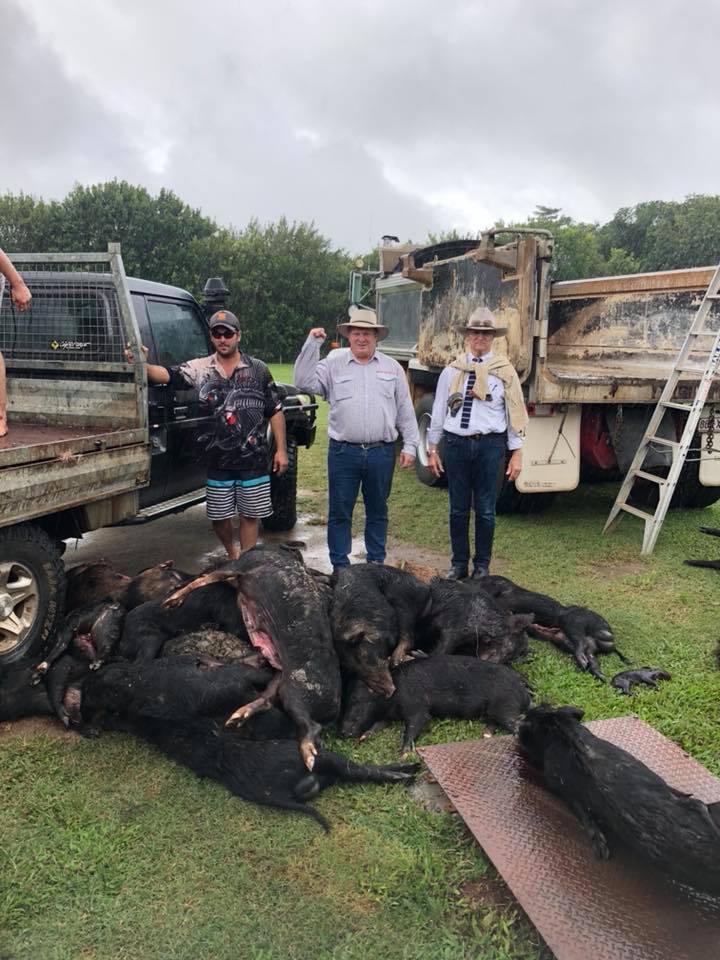 Greens Senate pig and pest report shoots and misses
Greens Senate pig and pest report shoots and misses
BOB Katter, Member for Kennedy, and Shane Knuth, Member for Hill, have brutally savaged a Federal Senate Report[1] driven by the Greens which has deemed firearms to be 'ineffective' in the management of pests including feral pigs.
Mr Katter said the report, driven by Greens Senator and anti-hunting-advocate, Senator Hanson Young, was riddled with blatant lies and irrelevancies and demonstrated a complete lack of regard for the primary producers and [2]farmers in the north that are burdened by the explosion of pigs running rampant on their farms.
"It's just another example of blatant lies, but that is what you would expect from the Senator who is responsible for this report.
"Quite frankly, the people that actually care about the environment do not want bores.
"It is an indiscriminate attack and there is no way you're going to convince me that you can simply bait and poison them – tell that to the marines, and endangered wildlife who will be killed off with baits – the dunnarts, the turtles and cassowaries.
"I have been tenaciously opposed to poisoning and let's say if there are 20 million pigs running around out there, you aren't going to trap 20 million pigs. Traps are infantile and silly
"The obvious remedy is a rifle and quite frankly it is the only remedy. There is nothing I have heard that is more effective to take out pigs.
"Mark Hogno, an ex-ranger in Normanton, together with another bloke are reputed to have shot 700 pigs before 11 o'clock one morning in an aerial culling exercise. So don't tell me it is ineffective," Mr Katter said.
"Unless something is done, for those that care about our ecology of our country, there will be no cassowaries, no dunnarts and no turtles."
The Report conceded that feral pigs are carriers of 14 endemic diseases, 11 of which are transmissible to humans including leptospirosis, a disease which appears to be growing in the Far North year-on-year.
"My office contacted all the hospitals from Tully to Mareeba and asked how many leptospirosis cases there had been over the last few years.
"The numbers show that lepto cases are increasing exponentially and are on track to be double that of 2017 by the end of the year."
Member for Hill, Shane Knuth, agreed with his Kennedy counterpart but added that the pests also pose a monumental threat to the biosecurity of the Far North, particularly with the banana industry.
"I am quite surprised that the Senator is targeting recreational feral pig hunters. Her comments would be met with wrath not only by hunters but also by those who work hard to preserve our native wildlife such as cassowaries and turtles. Feral Pigs cause massive destruction to native turtle and cassowary populations," he said.  
"Recreational feral pig hunters are our last line of defence and are out there on their own time and expense to combat the rising feral pig population. The Senator should instead be backing the KAP's continued call for pig hunting permits to access national parks, which are breeding grounds for feral pigs.
"It does not surprise me that there has been an increase in lepto disease, which is dangerous to livestock and humans. We know feral pigs also carry and spread Panama (TR4) disease which is deadly to the banana industry, so it is difficult to understand why so little is being done by state and federal governments to support feral pig hunters to help eradicate this disgusting pest."
[1] https://www.aph.gov.au/Parliamentary_Business/Committees/Senate/Environment_and_Communications/FeralDeerPigGoat2019/Report
[2] https://m.facebook.com/bobkattermp/videos/333242774891698/?refsrc=deprecated&ref=search&_rdr
Donate Now
Change starts with you