Isa prepares to host forum as energy debate rages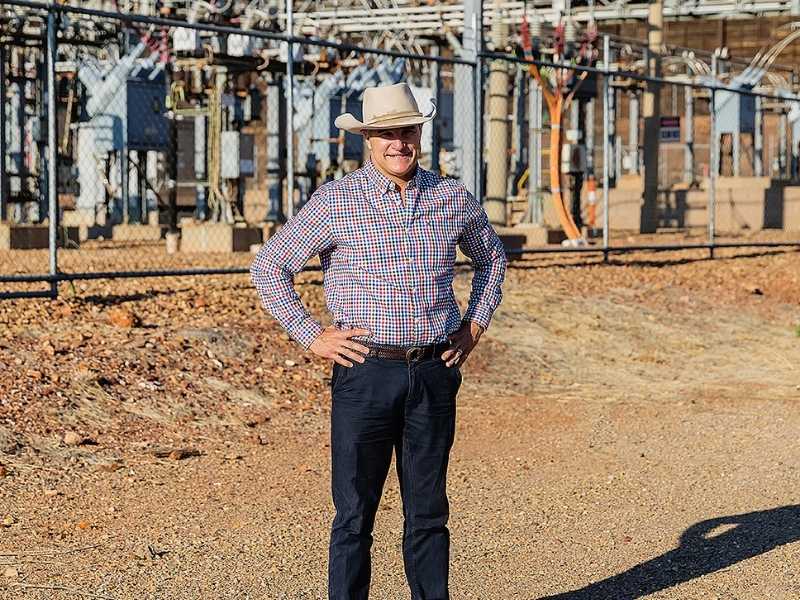 The political tide is turning and everyday Australians are collectively calling for all levels of government to have a pragmatic discussion around the possibility of nuclear power technologies forming part of the mix for the nation's energy future, Robbie Katter MP has said.
The Traeger MP said this momentum would set the stage for his Mount Isa Nuclear Power Forum – "What if we went nuclear?" event that is being held early next month.
He said the forum was the first of its kind for rural Queensland, and would place "pragmatism above politics" and allow the often-forgotten mining community if Mount Isa sit at the centre of the discussion.
"We are yet to see this debate approached sensibly in the political arena, and in the meantime we are hurtling towards spending $1.5 trillion by 2030 and $9 trillion by 2050 if we are to continue on the delusional path reach 'net zero' via batteries, wind and solar," Mr Katter said.
"These numbers completely dwarf the $387 billon figure that Federal Climate Change and Energy Minister Chris Bowen said an initial transition to small modular nuclear reacts would cost, and that would 'fly in the face of economics and reason'.
"It's the people of Queensland and Australia who are being taken for fools, and they're paying for that privilege – we can't afford to keep going down this nonsensical path."
Mr Katter said he, and the KAP, believed nuclear power should form only part of Australia's energy mix.
In particular, the party advocates that reliable "base load" options such as coal-fired power, gas and nuclear should make up 50 per cent of the mix at a minimum.
This position is in strict contrast to the "farcical" national renewable energy target of 82 per cent.
Mr Katter said the KAP remained unapologetically supportive of coal mining and coal-fired power generation, and believes governments should be working to extend the lifetimes of those scheduled to close where economically reasonable as well as considering nuclear options.
The Traeger MP said he was looking forward to his forum, which he hoped to add to a growing state-wide and national discussion around the future of nuclear power.
The forum's first confirmed speaker is Adjunct Professor Stephen Wilson, who will deliver a keynote address.
Prof. Wilson is an energy economist and an engineer with over 30 years' experience in energy systems and markets of all kinds.
He has worked on projects in over 30 countries as a consultant, a corporate executive, and as a teaching and research academic, and is a director of a company that is commercialising technology with applications for 21st century modular nuclear energy.
The second confirmed speaker is Nuclear for Australia's 17-year-old founder Will Shackel who is gaining respect and carving himself a national reputation as a youth advocate for nuclear power.
As a young person concerned about the nation's energy future he decided to research the prospect of the technology collaborating with experts from around the world, determining that nuclear power could be a solution that could benefit Australia.
Through his advocacy he started a petition to legalise Nuclear Energy, sent a letter to the Prime Minister, has made appearances across national media including on Sunrise, A Current Affair and Q+A and in May provided evidence to an Australian Senate Committee in Canberra on why he believed nuclear energy should be legalised.
The third confirmed speaker is James Reynolds. James, who originally hails from North West Queensland, is the founder of Mirabou Energy, the majority owner of Mirabou Energy Remote Power Systems and has 20-plus years' experience in Australia's energy markets and infrastructure services industries.
He is a passionate advocate for connecting some of Queensland's most remote communities to affordable power solutions.
The Mount Isa Nuclear Power Forum is a non-political event, and should be viewed as an opportunity for the public to have their voices heard and questions answered on this deeply topical issue.
It will be held on 4 October from 10.30am-3.30pm at the John Middlin Centre, Mount Isa.
The forum is free to attend, but places are limited – registration is essential and can be completed at: https://robkatter.com.au/mount-isa-nuclear-power-forum-what-if-we-went-nuclear/
Registration is only confirmed on receipt of a confirmation email.
Donate Now
Change starts with you