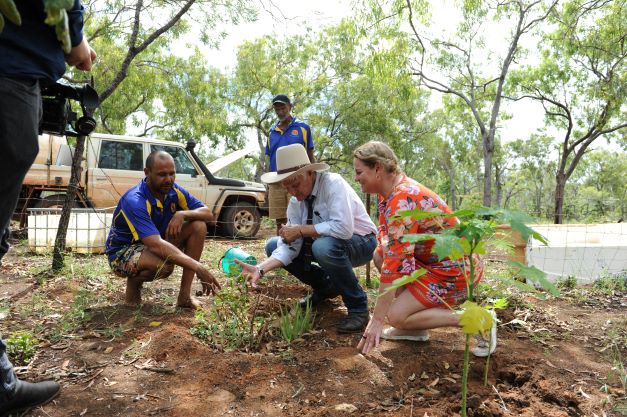 Katter: Fruit trees and vegetable seeds planted on Mornington Island to combat poor diets
Katter: Fruit trees and vegetable seeds planted on Mornington Island to combat poor diets
MORNINGTON ISLAND locals have planted fruit trees and vegetable seeds in backyard gardens to combat poor diets that lead to chronic health conditions such as malnutrition, diabetes, and kidney disease, which reduces the life expectancy of residents.
In late 2018 Kennedy MP, Bob Katter received a promise from the Prime Minister for the establishment and funding of market gardens in North Queensland's First Australian communities including, Yarrabah, Doomadgee and Mornington Island. 
The National Indigenous Australians Agency (NIAA) has granted the Mornington Island Council $60,720 to compile a feasibility study for a commercial market garden to be completed by 15 July 2022.
Not content with waiting for the multiple studies to finish, Kennedy MP, Bob Katter, recently joined Mayor Kyle Yanner, Councillor Bobby Thompson, and Dieticians Australia President, Tara Diversi, to plant a mandarin tree in an established backyard garden on Mornington Island.
Mayor Kyle Yanner said he was no longer talking about the lack of fresh food on Mornington Island but was acting by planting trees.
"The statistics are horrific. Of the 634 people who attend the health clinic here at Mornington Island last year, 40 percent had chronic illness or multiple chronic illnesses," Mayor Yanner said.
"Australia is the seventh richest and healthiest country in the world, but if you look at remote, Indigenous Australians we sit at 147th in the world. The Federal Government talk about this 'gap' all the time, it's not closed. When is the gap going to close?
"We have everything we need for the market gardens to succeed. We have beautiful ground, water and good feed for cattle as well. That is the medium-term solution. We also need full subsidies on the groceries that come into our communities that are multiple times more expensive than what other Australians pay."
78-year-old Councillor, Bobby Thompson, said health outcomes were a lot better when the market gardens were previously operational on Mornington Island – when he was younger under the missionaries, and then continued by the Joh Bjelke-Petersen State Government.
"In those times we didn't have sickness flying around," he said.
"We had a big garden in the town and cattle on the island. Two beasts were slaughtered every week. We had fresh meat and fresh vegetables. The Royal Flying Doctor rarely used to fly in, but now it's here all the time.
"It's all changed now. The cost of freight that comes on the barge from Karumba to Mornington is so high, it's abominable. A lot of people can't afford the fresh and healthy food."
Accredited Practising Dietitian and President of Dietitians Australia, Tara Diversi, who was on the trip to Mornington Island, said growing food locally can help close the gap in chronic disease which is four times higher in Aboriginal and/or Torres Strait Islander Peoples.
"It's expensive to transport food – especially to regional and remote areas," Ms Diversi said.
"Food that can be grown locally in community gardens is one example of how the nation can support healthy and sustainable diets into the future.
"A national nutrition policy that's co-developed with First Nations Peoples of Australia could also build the capacity of healthcare workers within communities to provide nutrition services in the long term."
Kennedy MP, Bob Katter, said Australia would be an international pariah and the South Africa of the 21st Century, if the chronic health crisis in remote First Australian communities wasn't addressed.
"It's only a matter of time before the statistics come out to the United Nations," Mr Katter said.
"The Federal Government has a revenue stream of nearly $500 billion a year and yet it can't build market gardens in these areas? It's been four years since they gave me the promise and they're still doing studies. If it wasn't for the leadership of Kyle Yanner we would be going nowhere.
"The ALP Qld Government came into power in the 1990s and they stopped the funding and closed the market gardens. Well, we've turned a page and we are getting them back again."
Donate Now
Change starts with you