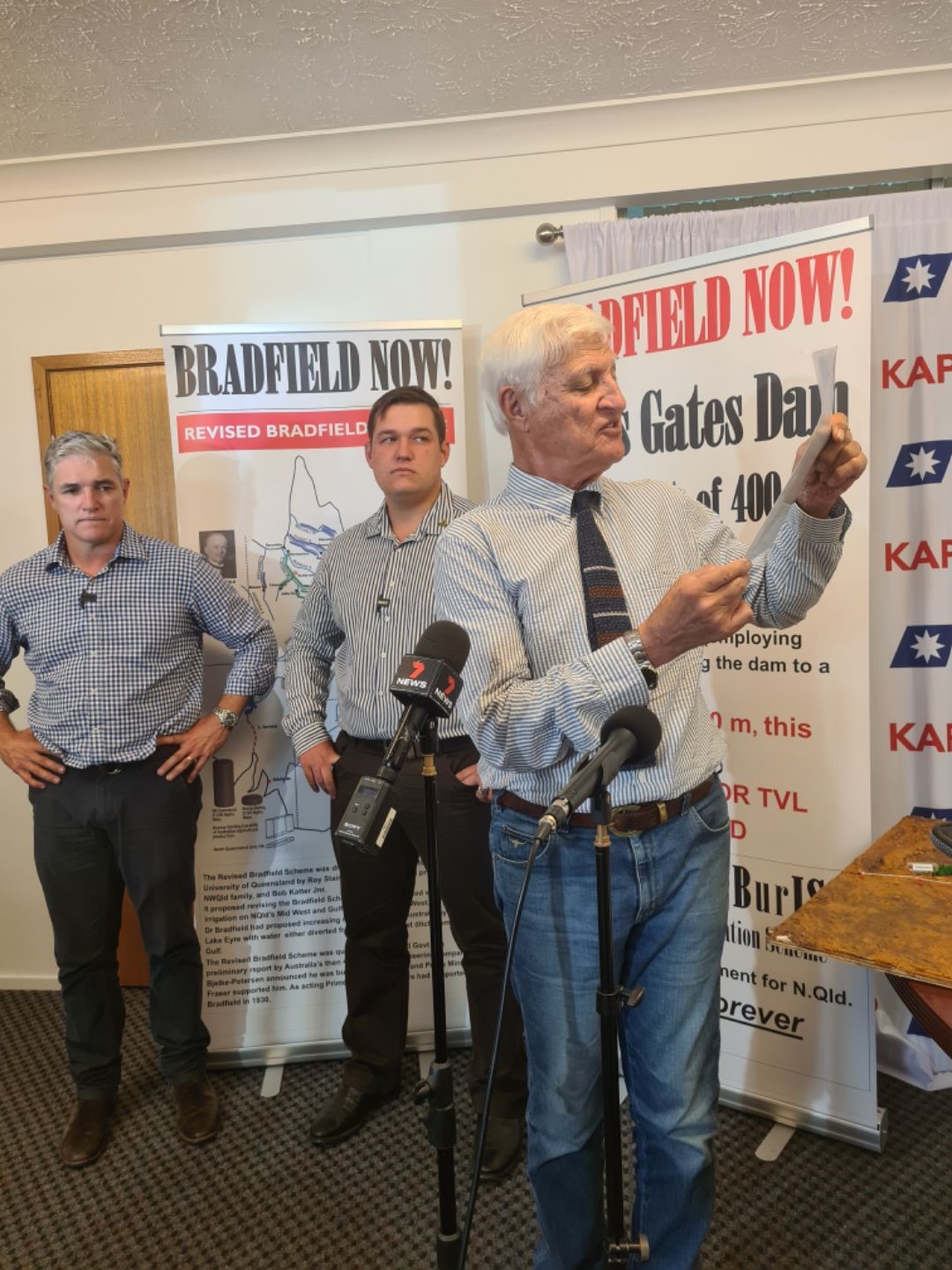 Katter lashes PM over Hells Gates broken promise
Katter lashes PM over Hells Gates broken promise
BOB Katter, Federal Member for Kennedy, has lashed the Prime Minster of Australia for backing the wrong horse on the Hells Gates Dam project and has warned that unless the dam is built to a height of 395m, as opposed to a significantly smaller project announced today, then he would flex his powers, clear his voice and ready himself for the biggest fight of political career.
A fight that has been 45 years in the making. 
"The Prime Minister's announcement today destroys the great Bradfield vision forever and proves that I have been flagrantly lied to," Mr Katter said.
"I am holding a letter from the Deputy Prime Minister, the person responsible for this project, saying that the dam will be built to 395m high. This is the height that will water Townsville and the height needed to go out onto the Western Plains. That was the undertaking agreed to in writing.
"But I have been lied to. The undertaking announced today doesn't go anywhere near that height. It might irrigate maybe a hundred or so farms along the waterbed. But to put that in perspective, Ingham and Ayr have 1500 farms, so what's an extra 100 farms going to do for a city of 200,000 people.?" he said. 
"The money announced today could not be justified in a million years.
"This country has had a dream of taking the giant floodwaters that wreck the coast each year, taking a tiny little part of those floodwaters, and turning them onto the Western Plains to supplement the massive floodwaters of the Flinders River and produce about 20 billion a year of production.
"What the PM is talking about will be flat out producing $200 million.
"A dam to 395m would provide all of North Queensland's electricity – clean, green, with no C02 emissions, the entire base load will be carried from the Upper Burdekin Irrigation Scheme (UBurIS) which has always been what everyone has agreed to.
"The person responsible for this "announced" project did not consult to anyone even remotely associated with the Revised Bradfield Scheme.
"What the PM has proposed is built as a low dam. A very low dam. There is not enough height to syphon the water. The dam is so low that it can't ever get through the Great Dividing Range via a break in the Range." 
Mr Katter said he had attempted to contact he Prime Minister several times today to raise these concerns and had not received a returned call. He said that he would have to consider his options in relation to how much support he will throw behind the Government moving forward.
"I've given the Prime Minister my support. I've given him loyalty. And I've been flagrantly lied to.
"He expected me to be jumping up and down with excitement on this, but he was badly mistaken.
"I will be considering all my options. We aren't for the Liberal party of Australia, we aren't for the Labor party of Australia, we are for the people of Australia.
"I'm leaving it out there. The PM can ring me up any time. The DPM can ring me up anytime. The Labor Party can ring me up anytime. But I'm considering all my options," he said.
"Bradfield has been spat on. This project has been spat on and I'm risking my political life to push for his great vision. When I go to sleep at night, I don't ask myself how many votes I won today – I'd love to go out there skiting about $5.4 billion in my electorate. But instead, I ask whether I did the right thing today. And this might be politically disastrous to me, but I just have to do what I think is the right thing and push back on this.
"If you can supply cheap electricity and reliable water for the people of north Queensland for forever, and if you can supply protein for the poultry, dairy and cattle industry, then why would you continue to support a pigmy a project that produces nothing, for anyone?!
"I will have to consider my position with respect to the budget and if there is a Balance of Power situation in the federal parliament.
"This is quite serious. The dream of Australians for a hundred years has been destroyed this morning. A dream that would have made this area become one of the biggest agriculture producing areas in the world. Destroyed.
"All this has been at the hands of a bunch of pygmies coming out of Townsville Enterprise. The bloke that got the $50 million, from me, refused to speak to me. A dropkick out of a Sydney bank who had been thrown out of the labor party for his dark views and landed on the front page of the Townsville Bulletin for embezzlement. And this is the bloke the Prime Minister of Australia listened to. Not the great Bradfield, not Sir Leo Hielscher, not the Deputy Prime Minister of Australia.
"It is a very sad day for all Australians. But I promise you this; you haven't seen the last of me on this. We will have our say.
"I have a reputation for brutality and let me tell you, I've earnt it."
Donate Now
Change starts with you