Katter Launches Bill to Keep Bush Kids at Home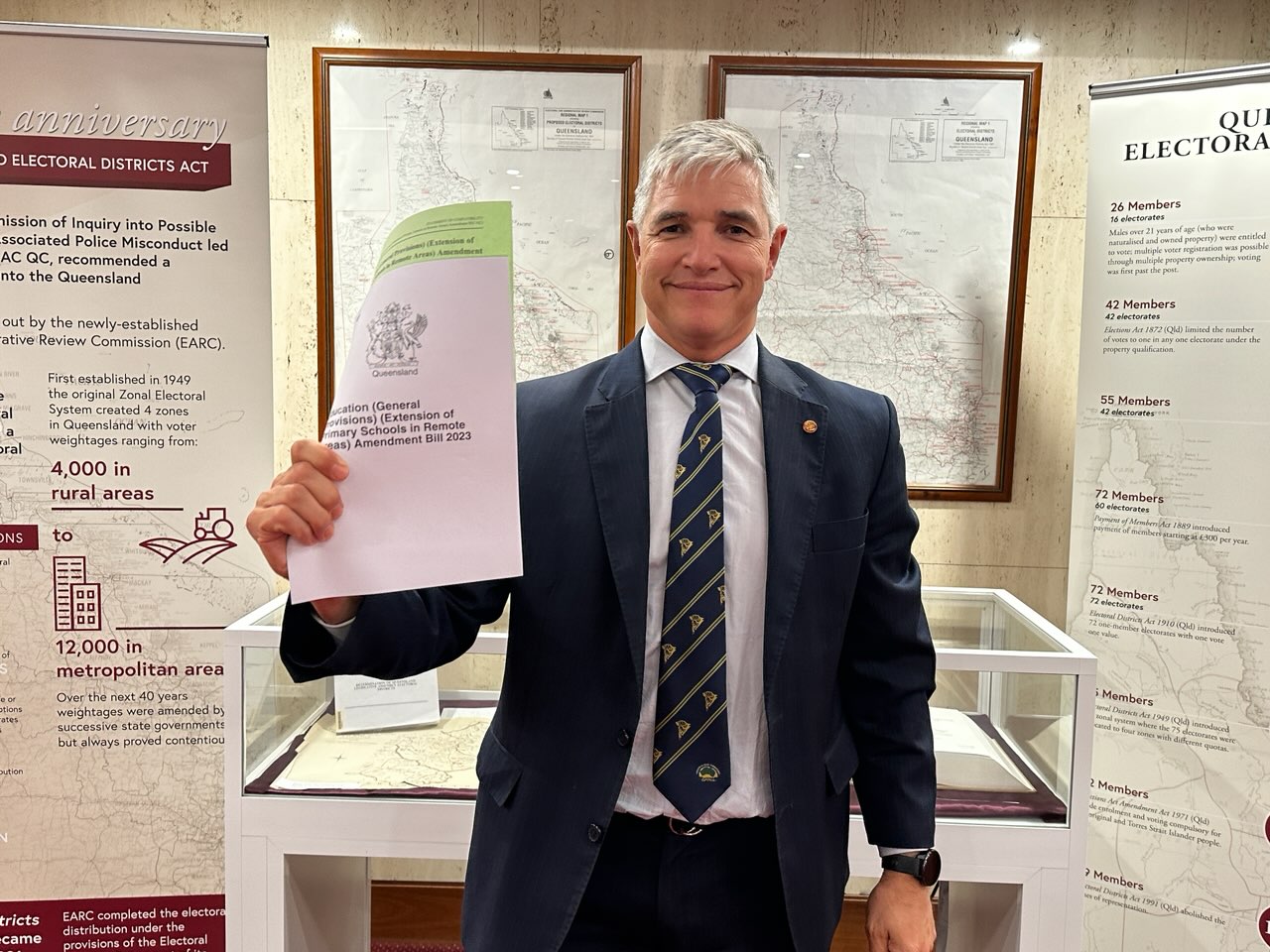 Turning the tide on bush towns bleeding their youths to the cities is a key focus for Katter's Australian Party (KAP) Leader and Traeger MP Robbie Katter, who has this week introduced his Education (General Provisions) (Extension of Primary Schools in Remote Areas) Amendment Bill 2023.
The Bill is designed to provide additional schooling options for rural and remote families, namely those who wish to keep their kids at home for longer.
If passed Mr Katter's bill would enable the Queensland Education Minister, after public consultation, to make fit-for-purpose arrangements on a case-by-case basis for primary schools operating in remote Queensland to also deliver of schooling for students in Years 7-10.
The expanded curricular offerings would only be available to primary schools in communities that do not have access to a local high school, of which there are about 100 across the state.
Communities captured under the Bill include places like Ravenswood, Birdsville and Muttaburra.
Mr Katter said the issue his proposed legislation seeks to address was exacerbated by the transfer of Year 7 to secondary schooling in 2015.
"While this change might have been welcomed by some, the transfer of Year 7 to high school has made an already difficult situation more so," he said.
"When rural kids need to start high school, families in towns with only a primary school have to either: pack up their family and move, enroll their child in distance education, or ship their kids – some now as young as 11 – away to boarding schools in the larger towns and cities," he said.
"As I have travelled around my electorate of Traeger and other rural and remote parts of the State in recent years, this is an issue that has been brought up by educators and parents time and time again.
"Many parents want to keep their kids in their local communities, and family homes, for as long as possible."
Mr Katter said that while boarding school was a great option and a rite of passage for many rural kids, keeping 11-15-year-olds at home and ensuring they could continue their education was important in many situations.
"While I don't suggest some kids who are the ages of 11-15 shouldn't make the move to boarding school, I don't believe this is a choice that should be made out of necessity – every child and family is different, and there should be an option there," he said.
"For quite a few years I have been consulting on this issue across my own electorate and most rural parents that this Bill would affect have been highly supportive.
"One parent in particular who I spoke to raised concerns about the vulnerability of kids who, under the current system, need to be shipped off to boarding school at the age of 11.
"It's either that or the whole family moves, potentially ripping a significant cohort of people away from the town as well its primary school if the younger siblings are still enrolled there.
"This happening time and time again wreaks havoc on rural schools, many of which only have a small enrolment number to begin with.
"Last year in Ravenswood, I was informed that the local school there lost five students as the kids transitioned from Year 6 to 7.
"This was half their school, gone."
Mr Katter said small towns like Ravenswood, where residents were always keen to attract newcomers, faced heightened livability challenges due to the limited local educational offerings.
"If people don't want to move to the town because of something such as this, this then means the mine isn't employing local families, who in turn are not supporting the local economy.
"This is but another example of the State Government failing to consider the nuances of rural and remote Queensland when it comes to their policies – it can't be one size fits all for these kinds of issues."
A formal, state-wide consultation process will soon be underway, and anyone interested in having their say on the Bill should email traeger@parliament.qld.gov.au
—ENDS—                                                                            
Donate Now
Change starts with you