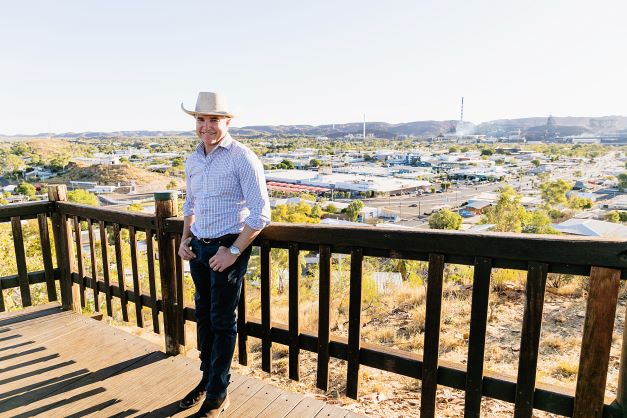 KATTER WARNS OF PROFIT-DRIVEN CORPORATE CONTROL
KATTER WARNS OF PROFIT-DRIVEN CORPORATE CONTROL
Australians are staring down the barrel of an automated future where profit-driven corporations control food supply chains and robots produce, prepare and package all produce, Katter's Australian Party MP and Traeger MP Robbie Katter has warned.
Mr Katter, who is a vocal opponent of corporate encroachment on fragile rural and regional economies, said the nation was experiencing a "sliding doors" moment in which it had to decide upon the economic and social make-up of its communities for generations to come.
Prompted by the current parliamentary review into Queensland's trading laws, which is considering further de-regulation that would appease major retailers, Mr Katter said the State should maintain its current retail protections.
This would include upholding Sunday and public holiday trading bans for major retailers, like Woolworths and Coles, in 21 regional communities including Mount Isa, Charters Towers and Ayr.
It would also continue a ban on seven-day trading for certain retailers, like caravan and car shops, who under current legislation can't open on Sundays.
Industry leaders have pleaded with the State Government for a continuation of the status quo, saying their staff don't want to work all weekend and allowing an additional day's trade each week would be exploited by multi-national manufacturers.[1]
Australian Automotive Dealer Association chief executive James Voortman told the Courier Mail the current trading hours were suitable and opening Sundays was "unnecessary and counter-productive".
"During this period, we have often seen dealer profitability come under severe pressure and the prohibitive costs of Sunday trading would only have added to this pressure," Mr Voortman said.
"The Act has also had somewhat of a moderating effect on the industry's current severe skills shortage as dealerships have managed to retain staff who would otherwise have left were they required to work on Sundays.
"The AADA would urge the Committee to retain the existing arrangement to restrict Sunday trading for motor vehicle Dealerships to protect the economic health of a vital industry in the state."
Mr Katter said he had fought hard to secure the Sunday trading ban for major retailers in the regions back in 2017.
He said while he understood there was an argument that an additional day of trade for big supermarkets was "convenient", he warned of possible unintended consequences.
"The ban on Sunday for the big retailers in rural and regional communities provides crucial trading opportunities to small businesses who are otherwise constantly out-competed and undermined by the buying power of major corporations," he said.
"Any changes to these restrictions would, undoubtedly, undermine the viability of these small businesses in the long-term.
"Every small, independent business that is choked out by this market monopolization is a nail in the coffin for local jobs, economic development and independent enterprise.
"No one will win in the end but the shareholders – while the major supermarkets contribute significantly at present in terms of employment across the board, technology is advancing at such a rate that automation and centralization of work is a growing threat.
"This paints the picture for a very hollow, and cold, future for our communities and our country and it's not something I support."
Speaking at the public hearing held for the Inquiry into the operation of the Trading (Allowable Hours) Act 1990, Distributive and Allied Employees' Association Queensland branch secretary Chris Gazenbeek warned of the risks.
"The problem with technology is that the legislative frameworks move so slowly to catch up and I do not think they ever can because the technology is rapidly changing," he said at the hearing.
"The impact on this in the long term, in my view, is that we are moving down the track of more automation – we have the Coles distribution centre closing sometime next year—1,500 jobs lost. There will be a new automated site that will operate by robots. They will have a small contingent of about 100 employees to operate that site.
"You see the shifting change."
[1] https://www.couriermail.com.au/news/queensland/dealerships-make-bid-to-stop-review-from-introducing-sunday-trading/news-story/064f4a7ec93efdd299804ce4962cd3db
Donate Now
Change starts with you