'No jobs and rotten meat': The real First Australian issues not raised in Voice campaign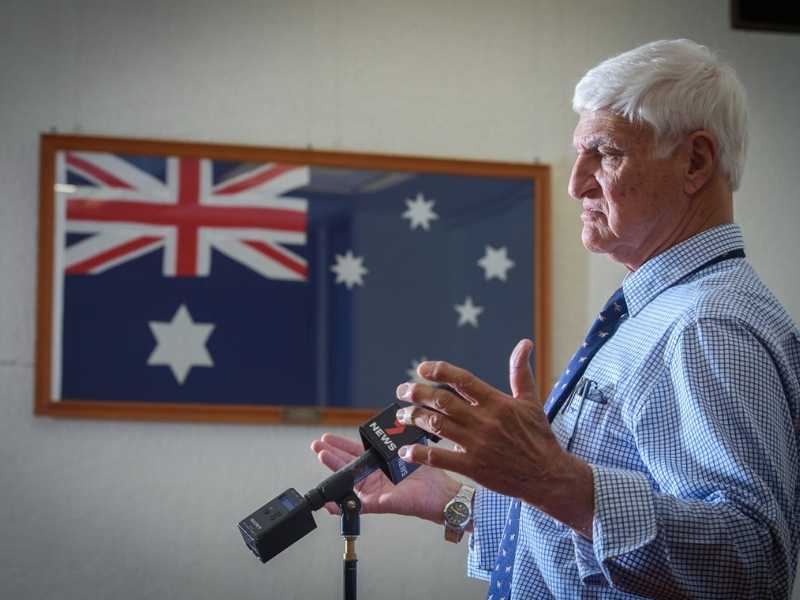 EGREGIOUS social issues eroding the lives of First Australians that could be addressed overnight were on full display when KAP Leader Robbie Katter and party founder Bob Katter toured Aurukun, Pormpuraaw and Doomadgee last week.   
Limited access to fresh and healthy produce due to distance and freight costs, shocking overcrowding in houses, and reduced opportunities for work due to Blue Card issues were among the key issues raised by on-the-ground residents.   
Unless prompted, no one spoke about a Voice to Parliament and there was a general sense of confusion towards the Canberra-based concept on the ground.  
The KAP MPs said they weren't surprised by the disinterest in the Prime Minister's "Voice" proposal, as they struggled to reconcile the idea with solutions to the many practical issues they have been trying to highlight for years.   
"The modern-day governments have become addicted to avoiding making decisions and taking actions; It doesn't matter if you create 20 voices out of this, or 50, you still need a government on the other end that's going to act, and so far they've proven they wouldn't do that," Robbie Katter said.  
"What we heard in this trip was the same as what we normally hear on those trips – talking about grocery prices, health outcomes, RHD, renal dialysis units, overcrowding in houses and blue cards and lack of opportunities for work. And I can't say I've heard any references from these communities or about these issues during this campaign.  
"Governments speak with their action, or lack of, in parliament, and we know a Voice is just going to enable further inaction on the crucial issues we heard about during the trip." 
Federal MP Bob Katter said he had witnessed years of failed government policy and action, despite his desperate bid to highlight crucial health issues in First Australian communities.  
"The Voice is just politics, and I'm not interested in it, when these communities have a life expectancy of 56," he said.  
"Every time a person brings a problem to parliament, they have an 'inquiry'. Whether you call it NAIF, or whether you call it Closing the Gap, or The Voice, it's just another inquiry.  
"Why don't you go out there and ask them what they want and give it to them? 
"As a state Aboriginal Affairs minister, I went out and asked them what they wanted, they wanted to own land like everyone else on the planet, so I gave it to them.  
"Freight comes in once a week, and the food has about three days of shelf life, that's if anyone in these communities can even afford to buy it. We had market gardens, so they could have access to fresh produce, now we don't.  
"Work for the dole – why are you paying people not to work, when you can pay them to work, and build houses." 
Some key issues raised in each community: 
Aurukun 
– Limited access to healthcare, Aurukun doesn't have an ambulance service. 
– Freight is expensive and irregular; this is leading to issues with the costs of goods, including food and other essentials, leaving residents with limited to no money to pay other bills.  
Cr Kempo Tamwoy acknowledged he was on a "good wage" and struggling to save money, and therefore believed it would be near impossible for most residents of Aurukun to save money, especially on welfare.  
– Lack of housing – leading to overcrowding including up to 10 families in one house in some instances. However, each house is likely operating on welfare, trying to support those 10 families, leading to lack of nutritional food available – poor health.  
– Mayor Kerri Tamwoy is "afraid" to purchase meat in the supermarkets because of the costs, and also the quality / low shelf life.  
– The community constantly runs out of basic grocery essentials, such as milk.  
– The supermarket has sporadic opening hours, due to lack of workforce, and many essentials are overly expensive, such as washing powder, toilet paper, leading to poor health outcomes in homes.  
– Sly grog is being sold for up to an estimated $700 per bottle, by people from outside town who are taking advantage of the fact it's a dry community. Council has no power to move these outsiders on. And families spending all their money on a $700 bottle have no money left for essentials – again leading to poor nutrition, poor health.  
– People are struggling to get jobs because of the Blue Card issue – council wants local "reformed" people to work in local skilled jobs, but small incidents prevent most of the town from obtaining blue cards. Council feels it knows it's people and who is "reformed" and they deserve a chance to work and earn.  
Pormpuraaw 
– Similar issues to Aurukun with lack of housing, overcrowding, and high freight costs – expensive and low quality food arriving to town.  
– Diabetes, rheumatic heart disease and hypertension are the biggest health concerns.  
– Food only comes in once a week, and most perishable items only have about a three-day shelf life.  
– Big concerns over lack of education and the lifestyle choices it's leading people down. There used to be programs teaching people about budgeting, nutrition, well being.  
Even if they had market gardens, apparently locals don't fully grasp the need for good nutrition and are spending all their money on takeaway and alcohol.  
They also don't know how to save / spend their money and are being forced into making difficult decisions when they run out.  
– With alcohol restrictions, people are bingeing when they can, leading them to blow all their money and suffer health consequences. They want alcohol consumption to be made the responsibility of locals, rather than force a "black market".  
– They have low morale towards work, and earning an income. They want to see "work for the doll" return.  
Doomadgee  
– Blue card issues preventing most of the town from working, especially residents with minor misdemeanours committed as juveniles.
– Sick of hearing "people in the city's" assume what their issues are, without visiting the community.
– Poor town infrastructure, including roads and bridges, which cut the community off every wet season, limiting services available.
– Diabetes, rheumatic heart disease and hypertension are the biggest health concerns.  
– Food only comes in once a week, and most perishable items only have about a three-day shelf life, meat turning blue.  
– Low housing stock, leading to overcrowding.  
Donate Now
Change starts with you