Outrage as Fishing industry cops another below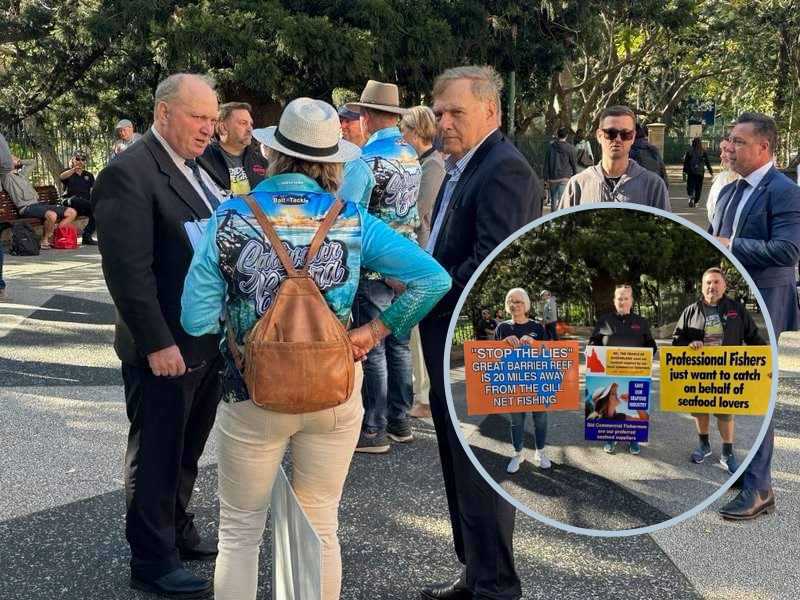 Member for Hill Shane Knuth said he was not surprised at the anger directed towards what has been described as a "gutless" action taken by the Queensland Government after the announcement of the latest ban on Gillnet Fishing along Queensland's East Coast.
Attending a Seafood Rally at Parliament House yesterday, with fellow KAP MP's Robbie Katter and Nick Dametto, Knuth agreed the government needed to show some guts and stand up to international agencies such as UNESCO and the WWF.
"What's the point in having a Minister oversee the fishery portfolio, if they will always meekly surrender to overseas organisations who fly in for a few days and demand the closure of gillnet fishing without understanding or consulting those in the industry," Mr Knuth said.
He said Queensland already had one of the most tightly regulated fisheries in the world, going through more than 30 years of hard reform to ensure sustainable practices within the industry.
"They have never ever gillnetted the Great Barrier Reef and are not even close to it," Mr Knuth said.
Mr Knuth said the decision to phase out gillnet fishing along Queensland's east-coast by mid-2027 is ill-informed and will devastate many generational, family-owned fishing businesses and those along the food chain who rely of freshly caught seafood.
"Forget going to a fish 'n' chip shop or restaurant expecting to eat fresh, wild caught Queensland seafood in the near future," he said.
"We will be eating imported seafood instead."
Mr Knuth said this was another severe blow to the industry, hot on the heels of the majority closure of the Spanish Mackerel fishery by Queensland Fisheries, devastating the industry.
"There is no doubt that Queensland Fisheries are responsible for this debacle. Either they have mis-managed the Spanish Mackerel industry since 2004 or the recent changes to the way fish stocks are measured is flawed. There is no other explanation," he said.
Mr Knuth said the latest announcement of the formation of the Future Fisheries Taskforce is another slap in the face to Queensland fishermen.
"There is not one single representative from the seafood industry on this taskforce. It is stacked with a former WWF official, Queensland Fisheries, Treasury, DES and departments of the Premier and Cabinet.
"This taskforce is making decision that affect the long-term future of the fishery industry and people's livelihoods across the state, without any representation from those in the industry.
"How on earth can the seafood industry get a balanced and unbiased plan for the sustainable future of the fishery.
"It's an absolute stitch up."
Donate Now
Change starts with you