Plibersek's 'knowledge' a hope against Ravenshoe wind farm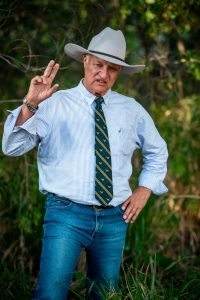 Plibersek's 'knowledge' a hope against Ravenshoe wind farm
THE Federal Environment Minister's intelligence and knowledge of bird species likely to be affected by the Chalumbin wind farm, in the Atherton Tablelands, should present enough common sense to block the 94-turbine project, Kennedy MP Bob Katter says.  
Mr Katter received a briefing from Environment Minister Tanya Plibersek who advised she was still "considering her position" on the project awaiting her approval.  
"I was impressed with Ms Plibersek's knowledge of the project – the environment and the bird species which would be affected," Mr Katter said.  
"She had certainly done her homework and due diligence. 
"So with the understanding that she is well aware of the threats this wind farm would pose, I believe the evidence would be extremely hard for the minister to ignore. 
"And I ask the minister, that at the very least, delay the decision until the proper consultation has been done with the community. The previous Minister for Environment agreed to come up and the current minister should do the same."  
Mr Katter himself said he was on the side of passionate locals in protesting the almost 35km "bird-killing" wall of turbines.  
"I, like my fellow North Queenslanders, have a love of our birdlife. My little ten-acre backyard in Charters Towers regularly sees around 20 varieties of birds from the beautiful rainbow lorikeet to the swaggering magpie, the exotic blue helmeted honeywing, or the sneaky old bowerbird." 
Mr Katter said dense rainforest regions were no place for a windfarm, particularly one that provides little benefit in comparison to coal. 
"A windfarm generates for around $100 a megawatt hour, versus existing coal fired at $20 a megawatt hour." 
However, he also proposed an alternative, more suitable location for a wind farm. "There is nothing more sensible than the proposal in Hughenden, which is at super high altitude with negligible birdlife and serious wind availability. But you're not doing it in forest country," Mr Katter said.  
Donate Now
Change starts with you