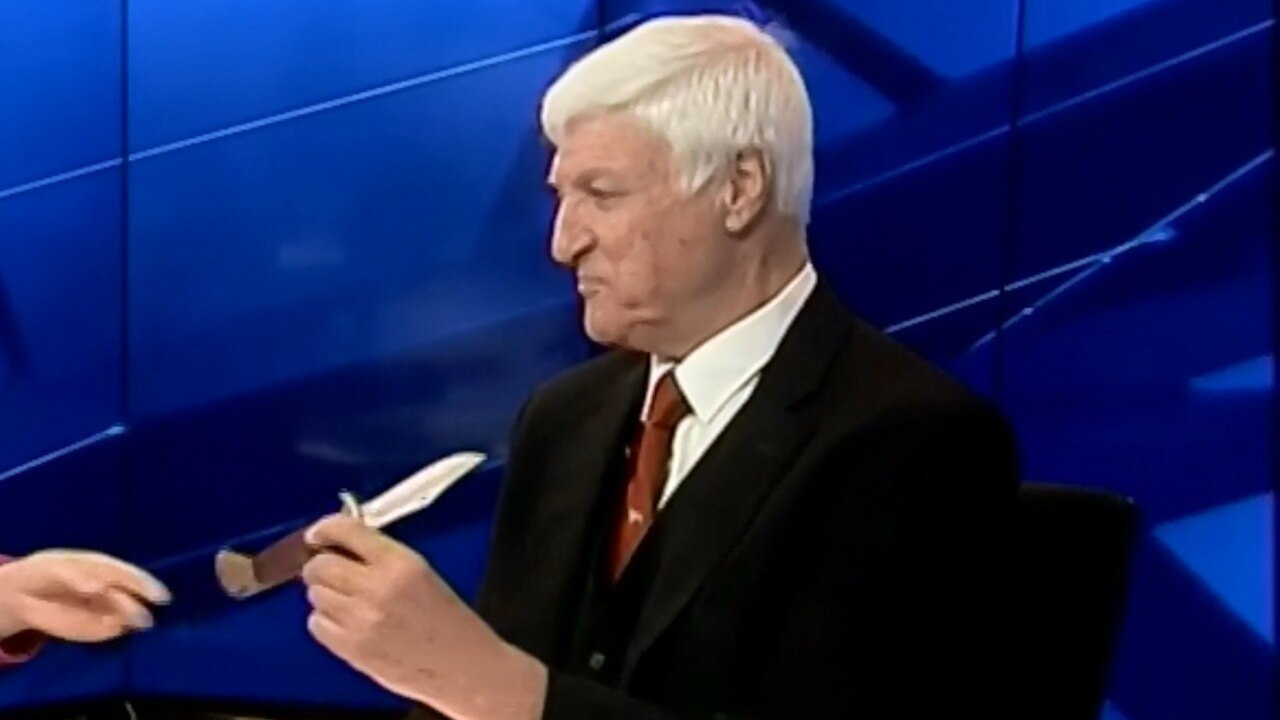 Pocketknife prosecution demonstrates our loss of Aussie values – Bob Katter
Pocketknife prosecution demonstrates our loss of Aussie values – Bob Katter
KENNEDY MP, Bob Katter, has called on everyone who has a drop of Australian blood in their veins to stand up and fight for their freedoms because they're quickly vanishing, after a 74-year-old man was prosecuted in Chinchilla, south-west Queensland, for carrying a pocket knife.[1]
Wayne McLennan told the Country Caller that he has carried a pocketknife on his belt since he was 14, using it to cut bailing twine, castrate calves or for other bushie-based tasks.
He was fined $100 by the Chinchilla Magistrates Court for carrying a knife in a public place without a reasonable excuse under the Weapons Act.
Mr Katter said it was nearly unbelievable to think that one of the most iconic images of an Australian is now punishable in court with a fine.
"Along with Mad Max, Crocodile Dundee is one of the greatest achievements of the Australian movie industry – an international box office hit," he said.
"'That's not a knife, this is a knife,' is the famous line from the top scene in the movie. Poor old Mick Dundee would be rotting in a prison if the movie was made today.
"The only time the 'screenie-moron-generation' see a knife is in a movie killing people. But there are one-thousand-and-one different uses for a penknife or a pocketknife. The pocketknife I've carried for most of my life has tweezers and a needle, and a non-stainless-steel blade so you can get it sharp enough to shave.
"I sit here in my house looking at a rock knife or stone tool, which the First Australians used for 40,000 years in this country. A First Australian never went anywhere without his rock knife which has a handle made of dried gum, spinifex wax."
Mr Katter said our forebears would be ashamed to see the over-regulation and rules that are burdening modern Australian life.
"If you want to see the most iconic statue of an Australian, then you will go to the bronze surfer at Bondi Beach or you will go to see the stockman at the Stockman's Hall of Fame in Longreach where he is carrying his saddle," he said.
"The stockman carrying his saddle has a pocketknife on his belt. Everyone in the bush carries a pocketknife.
"My grandfather who owned a big clothing shop, never went anywhere without a pocketknife on his belt. He used it as a letter opener, and he used it to clean his nails. Every box of clothing or footwear that came into his very big store was opened with a pocketknife.
"People who believe in fun and freedom need to step forward against these 'authoritarian-fun-destroyers', the book-burners, and the fun-control police. We are serving notice to the authoritarian fun destroyers. We are coming after you because we've had enough.
"We Queenslanders have proudly worn a knife on our belt for 40,000 years. The person who took it off us is Palaszczuk, the Labor Party Potentate. Her values are not the values of an Australian."
Donate Now
Change starts with you