ROBBIE KATTER MP MEDIA RELEASE – Premier Proud of Plans to Wipe out NQ Industries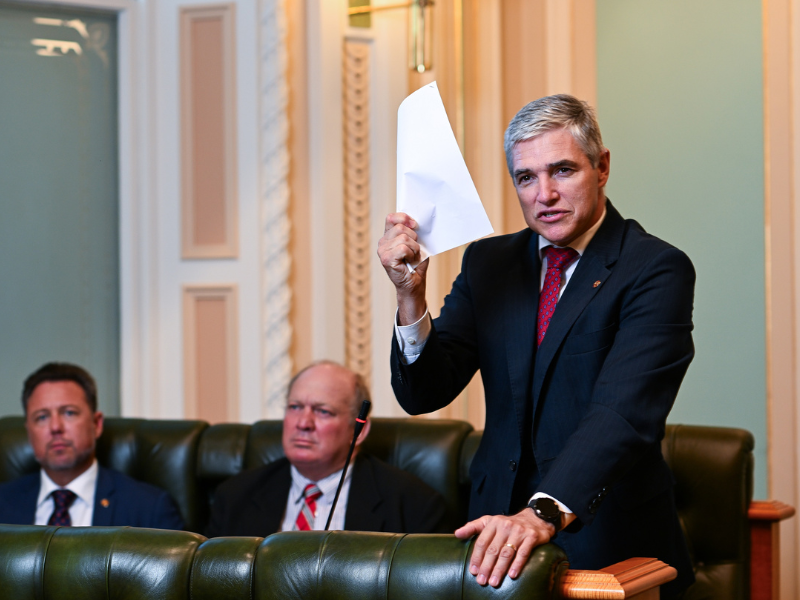 Katter's Australian Party (KAP) MPs used Question Time in the Queensland Parliament to this week force the Premier to come clean on her involvement in the Commonwealth Government's plot to destroy the futures of many North Queensland farmers and commercial fishers.
Last week, Member for Kennedy, Bob Katter MP, tabled a letter in the Commonwealth Parliament that exposed the Australian Government's plan to systematically suffocate North Queensland and its primary industries.
The letter dated 25 May 2023, under the hand of Federal Environment and Water Minister Tanya Plibersek was addressed to the Director-General of UNESCO seeking approval from the international body on the suggested measures.
KAP Member for Hill Shane Knuth said that over the years North Queensland had been hit hard with overregulation, green zones, yellow zones, bag limits, vegetation management laws and reef regulation laws which have punished hard working rural Queenslanders.
"Now we have hard evidence from the Federal Minister for Environment and Water that this has all been promised to an unelected international body in UNESCO, without any science-based evidence, with much more to come," Mr Knuth said.
"Our State Government needs to stand up for regional Queensland, stop destroying our fishing and rural industries and make decisions based on reliable and tested science-based evidence, instead of bowing to demands from international bodies such as UNESCO."
KAP Deputy Leader and Member for Hinchinbrook Nick Dametto said that the Premier lacked the capacity to grasp the magnitude of the joint Government decision to shut down large parts of rural and regional Queensland.
"The reef plays a vital role to Queensland and we don't disagree with that but we can't continue to be told what to do by UNESCO and WWF when those that interact with the Reef are saying that it's never been in better health, even the Australian Marine Institute of Science and other reef experts agree," he said.
"Record high coral calcification indicates a healthy reef. I don't know any other way to say it, the reef is fine, jump on a boat and come check it out."
KAP Leader and Traeger MP Robbie Katter on Tuesday was first to question the Premier on whether she would revoke her support of measures that would see the hear ripped out of North Queensland's rural and regional communities.
Assisted by the Speaker, the Premier was able to side-step and avoided answering the question except to acknowledge that she would "get back to the member".
The following day, KAP Deputy Leader and Hinchinbrook MP Nick Dametto again took aim at the Premier and questioned if she had committed Queensland to the Commonwealth's draconian tree-clearing laws, further sediment and nutrient run-off regulations and commercial fishing wind backs.
Seemingly better prepared, the Premier proudly confirmed, inter alia:
"As we know, the State Government and the Federal Government have been working very closely together in terms of ensuring that the Great Barrier Reef is not listed as endangered. That is why we have together undertaken measures as much as we possibly can to ensure that we protect the Reef.
"The Federal minister, in consultation with our government, wrote to UNESCO to talk about the measures that we have taken including substantial fisheries reform, which we needed to do, accelerated action to improve water quality and strong legislated climate action. This letter very much sets out the actions of both the Commonwealth and the state in relation to saving the Great Barrier Reef."
KAP Leader and Member for Traeger Robbie Katter said the letter from the Federal Minister was a smoking gun that exposed the Premier and her relationship with UNESCO.
"They've been firing all the bullets here in Queensland and we've long suspected that there was UNESCO involvement here but now we have it in black and white, and confirmed by both levels of Government, what measures have already been taken and what is yet to come," he said.
"At the start of the east-coast gill net bans they tried to disguise the plan with some science but by the time they reached the Gulf they didn't even bother with that.
"We have a Government that is intent on shutting down communities and shutting down industries all in the name of UNESCO and leaving behind a trail of destruction.
"That's simply not good enough for the people of North Queensland who are asking why this Brisbane Government is so committed to obliterating us in the North.
"It's now up to the North Queensland Labor MPs to decide if they are going to stand by their constituents and push back on the government about this, or are they going to stand by and watch as their electorates economically shut down."
–END–
Donate Now
Change starts with you