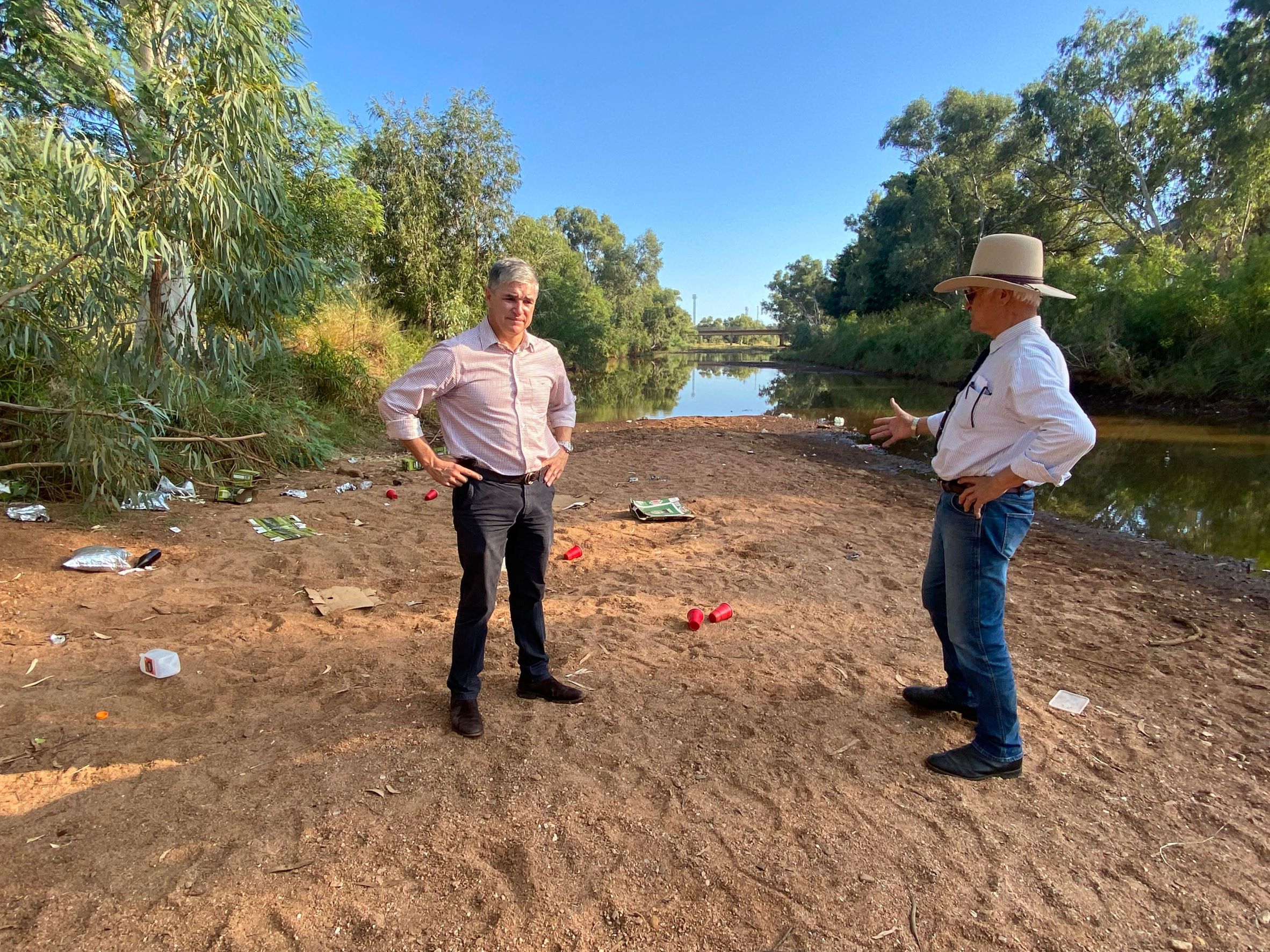 Solution must be found for people living in Leichhardt River
Solution must be found for people living in Leichhardt River
KENNEDY MP, Bob Katter, and Traeger MP, Robbie Katter, say something must be done about the itinerants living in the Leichhardt Riverbed in the middle of Mount Isa, the town's main water supply, many of whom are from the Northern Territory and have property there.
The federal representative, Bob Katter, is proposing a diversionary centre and housing be built at least 15 kilometres out of town for the people to move into, and that a weekly bus service be established so they can access facilities in town such as shops, banks, the post office etc.
Bob Katter said current services were overwhelmed and the people living in the river, who are originally from the Northern Territory, Burketown, Doomadgee and Mornington Island, had nowhere to go.
"KASH (Kalkadoon Aboriginal Sobriety House) can be full at times with no beds to spare leaving many people seeking help without anywhere to go," Mr Katter said
"All I asked is for the Council to select a desirable piece of land for a KASH type initiative and then leave it to myself and Robbie Katter to find the money from government. There is a block making facility in Mount Isa that can also be utilised for the project.
"The Council has informed me that they do not intend to move forward with a diversionary centre for the community living in the Mount Isa riverbed. If you move them out of the riverbed you need to move them somewhere and if they are being moved into to the suburbs of Mount Isa then it is my duty to inform those suburbs that that's what you are doing.
"We must look at what has worked well before. We had the KASH which was founded by Charlie Ah Wing in 1978.
"I was quite astounded that the CEO proclaimed that the Council is not interested in proceeding with this project when it has already been made clear that they are in favour of having something in place for this issue.
"The continuation of this situation, of having people living in the town's water source, is absolutely outrageous. The dangers in regard to people camped in the riverbed are very sad indeed."
Traeger MP, Robbie Katter, said many of the people living in the river have homes, families and loved ones back in the NT, and that aspect of the problem must also be dealt with.
"The majority of these people have chronic alcohol dependency or health issues and enabling them to live there is getting further away from solving the problem," he said. 
"There are gross inefficiencies in the housing inventories between NT and Queensland and it is highly likely that the fluidity of movement between places like Alice Springs and Tennant Creek to Mount Isa is putting immense unnecessary pressure on housing and therefore families.
"I believe there is a direct correlation between the social disruption from the fluidity of movement between the NT and Mount Isa, and our youth crime situation.  This is most acute in terms of schools and support agencies trying to sort out unidentified and problematic youth.
"Surprisingly there have been reports that some people living in the riverbed are not without financial means.  There have been anecdotal reports of some of those people living in the riverbed having $10k's dollars in the bank account, assumed to be from royalties."
Robbie Katter said the government at both State and Federal levels have shown no interest in trying to address the cross-border issues. 
"One of the largest problems with even acknowledging that this problem exists is that the census is hopelessly inadequate in capturing data amongst itinerants," he said.
"It needs to be acknowledged that census officers have no capacity to force people to give details and the majority of people living in the riverbed are reluctant to give government intrusive information about their life."
Robbie Katter said the first step in addressing this problem is acknowledging that the town's water supply is not a desirable place for people to live. 
"The second step is to immediately make effort to repatriate people who have simply ended up in Mount Isa with no real intent to stay and who would consider themselves residents of the NT," he said.
"The third working concurrently is to tighten up the housing inventory and occupancy habits on both sides of the border to ensure people aren't living in a house in one area and holding another in their name. There are other combinations of this. People overcrowding in one house and then doing the same back at Tenant Creek.  This is the safest way to start forcing people to move without encroaching on their human rights.  We can't have taxpayers providing housing for people who leave it vacant and live in a riverbed or overcrowd another house."
Donate Now
Change starts with you