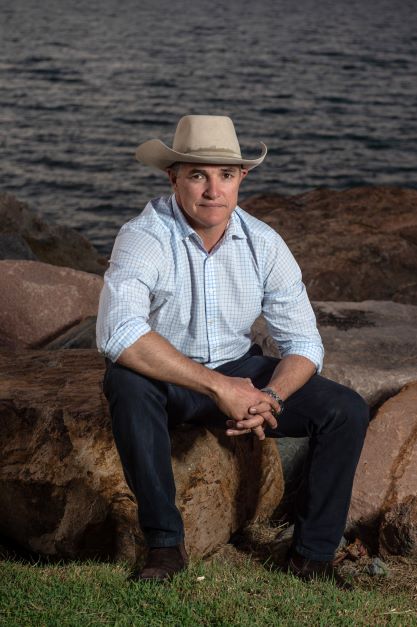 Spanish stitch-up continues as Qld Fisheries skews data
Spanish stitch-up continues as Qld Fisheries skews data
Katter's Australian Party Leader and Member for Traeger Robbie Katter has backed a Cairns game fishing leader's condemnation of the Labor Government for allegedly manipulating data and siding with anti-fishing groups to slash Spanish Mackerel quotas.
The Queensland Department of Agriculture and Fisheries (DAF) is proposing to radically reduce commercial Spanish mackerel catches by 75-90 per cent, sparking major backlash and fears of disastrous hits to market price and countless industries.
Cairns Professional Game Fishing Association spokesman Dan McCarthy has slammed Fisheries Queensland's public consultation survey, released last week, as loaded and biased.
It comes just weeks after major party MPs failed to attend a public meeting in Cairns to discuss the quotas, where only the KAP's Shane Knuth joined up to 300 local fishers.
Mr McCarthy said the survey on the management measures for the east coast Spanish mackerel fishery released by DAF was skewed towards severe restrictions and used a very different stock assessment model and method to any ever used before.[1]
"You could be forgiven for thinking that the anti-fishing lobby group wrote the questions themselves; the Department should be embarrassed for producing such a blatantly biased and skewed document masquerading as public consultation," he said.
"Labor panders to anti group at every opportunity; anti-fishing, anti-farming, anti-dam-building and anti-mining lobby groups are clearly calling the shots at great expense to the people in regional Queensland."
Mr McCarthy said the Department claimed to know the exact stock levels in 1911 despite credible data not being recorded until about 1945.
He called for the Fisheries Minister to step in immediately to pull the Department into line.
Mr Katter said DAF's proposal to slash Spanish mackerel limits was based on questionable scientific modelling and would inflict immense pain on Queensland's regional economy.
He addressed the issue in Parliament late last month, claiming any reduction in commercial fishing quotas would apply significant pressure to the market price and drive up the rate of potentially lower-quality imports.
"If this fishery is cut off as planned, are we going to see Australia importing some of the 50,000 – 85,000 tonnes of Spanish Mackerel that is caught in Indonesia each year?" Mr Katter said.
"In comparison we catch about 500 tonnes commercially and recreationally along Australia's east coast, and we are the ones looking to have our fishery cut off and our jobs and prosperity lost.
"If the concern is about conservation of fish stocks, wouldn't we just be importing the environmental pressures created by Indonesia which takes about 100 times more Spanish mackerel from the see each year than we do?"
The KAP's Bob Katter, Shane Knuth and Deputy Leader Nick Dametto addressed the media in Forrest Beach yesterday to call for the current Spanish mackerel catch limits to be maintained, supported by an e-petition sponsored by Mr Dametto.
Mr McCarthy encouraged the public to print and fill out DAF's survey, writing in their own suggestions and crossing out the unacceptable options presented by the Government. Submissions close 5th May 2022.
Click here to access the DAF survey: https://daf.engagementhub.com.au/spanish-mackerel-2022?fbclid=IwAR0DRSAA3waundtYqULUr4a9XfKjuhQejV6IpMDBxfrBDgX0WaLZ78GKicg
Click here to access the KAP-sponsored e-survey to retain the current Spanish mackerel quotas: https://www.parliament.qld.gov.au/Work-of-the-Assembly/Petitions/Petition-Details?id=3724
[1] https://daf.engagementhub.com.au/spanish-mackerel-2022/userinfo/survey-on-east-coast-spanish-mackerel-fishery
Donate Now
Change starts with you