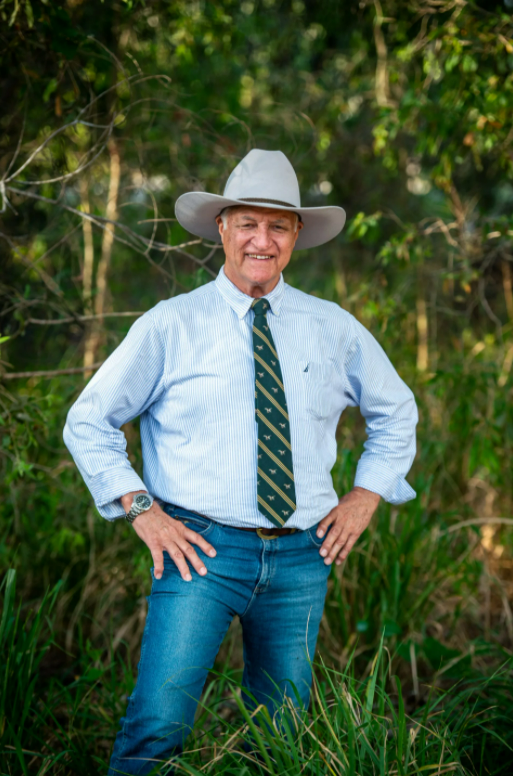 Telecoms, irrigation projects, and doctor training, top budget wins for Kennedy Electorate
Telecoms, irrigation projects, and doctor training, top budget wins for Kennedy Electorate
KENNEDY MP, Bob Katter, has welcomed significant announcements for North Queensland in the Federal Government's budget, including a whopping $1.3 billion telecommunications package to expand mobile and internet coverage in the regions, $99.3 million to increase the number of medical students studying in rural and remote locations, and commitments for the construction of Charters Tower's Big Rocks Weir ($38million) and Hughenden Irrigation Project ($170million).
Telecommunications:
Mr Katter wrote to Treasurer Josh Frydenberg in the lead up to the budget calling for increased phone and internet funding for the regions and is pleased that the Treasurer has followed through.
$811.8 million over five years will expand mobile coverage and connectivity in regional Australia, building on the current Mobile Black Spot Program and the Regional Connectivity Program, and $480 million will go to the NBN Co to upgrade its fixed wireless and satellite networks to improve services in regional areas.
"Telecommunications is consistently one of the biggest issues raised in the Kennedy Electorate whether I'm talking to people on the coast or out in the bush," Mr Katter said.
"People need the internet and phone reception to work from home, whether its small business, farmers or miners, they work on hands free while driving, children study at home, and people do university online. And most importantly, having phone reception can save lives in an emergency. It has been a disaster since the major parties privatised Telstra."
Health:
$99.3 million has been announced for rural and regional Doctor training as well as $33.3 million for the Royal Flying Doctor Service (RFDS) over four years.
"A delegation of doctors from Mareeba, Gordonvale and Innisfail joined me to meet with Health Minister, Greg Hunt, last year and it's proved to be quite fruitful," Mr Katter said.
"We've been losing multiple doctors from all our towns. We have now secured HELP university study debt alleviations to attract doctors to the regions, and $99.3 million for up to 80 commonwealth supported medical students per year to be trained in the regions. It's an ongoing battle but we will keep raising."
Water:
An extra $8 million has been allocated to Charters Tower's Big Rocks Weir for construction which brings the total funding commitment from the Federal Government to the project to $38 million.
Mr Katter says the water project, which he secured with the balance of power in late 2018, will increase irrigation farming, boost town water supply and believes it will lead to the construction of a meatworks.
"North Queensland had multiple meatworks, but they've all closed down except the one in Townsville," he said.
"We need secondary industries in our towns like a meatworks. The weir will grow feed and increase cattle fattening in the late part of the year when cattle operators normally have to destock."
The North Queensland Water Infrastructure Authority (NQWIA) which oversees the Big Rocks Weir, Hughenden Irrigation Project (HIPCo) and Hells Gates Dam projects, will be continued for another five years with $11.6 million in funding.
The Budget also recommitted $170 million for the construction of HIPCO and $5.4 billion for Hells Gates Dam.     Mr Katter says he has communicated to the Prime Minister in recent days, that the dam wall crest height must be 395m above sea level to facilitate sending the water west and the Revised Bradfield Scheme.
Cost of living (fuel):
Mr Katter has said the Government's cost of living measures including the temporary cut to the fuel excise, and its extra 50,000 places Home Guarantee Scheme, are somewhat short-sighted.
"Cutting the fuel excise does nothing to increase Australia's fuel reserves which they say will last less than a month, I doubt they'd last three days in a rush. And now we've drawn on our 'strategic' fuel reserves located on the other side of the globe in the USA," Mr Katter said. 
"We need fuel security and sovereignty. The crossbench MPs are supporting a proposal including a ban on the export of Australia's oil (so it's refined here), Australian grown ethanol, waste-to-diesel plants, and Australian made electric cars and buses strictly for public servants and metropolitan areas.
"Farmers in my electorate are screaming out for cost reductions on two of their biggest input items: freight and fertiliser. The excise is a temporary sugar hit. We can make ethanol for under 80c a litre in Australia, if you allow 17c for transport and retailing, you are still coming in at a dollar."
Cost of living (housing):
Mr Katter said the extra 50,000 places under the Home Guarantee Scheme would only drive up the demand for housing without increasing the supply, resulting in an increase to property prices.
"The Federal Government need to work with State and Local Governments to cut the restrictions around subdivisions," he said.
"If they build superfast highways and people live on acreage blocks it will mean a comfortable living. Currently, you wouldn't get a two-acre block in North Queensland under $250,000. The real cost of a block of land is $25,000.
"The State and Local Government restrictions have made subdivisions prohibitively expensive. If they're two-acre allotments you can dodge out from curbing, channelling, headworks charges, sewage connections, and you can go off grid for your power."
Copperstring:
On the Mount Isa to Townsville Copperstring Transmission Line, Mr Katter said there are intense negotiations going on between all parties concerned, and he remains optimistic that the outcomes will be positive despite no new funding announced in the budget.
"If we lose the copper smelter, fertiliser plant and Cloncurry's Ernest Henry Mine it would be a hit of $3,000 million a year to Australia's economy," he said.
"A stay of execution for three years was negotiated with the Zurich based Glencore in 2020. God is good. Copper prices have tripled since then.
"But into the future we need competitively priced power from the national grid to survive in the North West Minerals Province. You can't compete on gas at $16 a/unit, when our competitor countries are on gas at $6 a/unit. The Mount Isa power station will have a bright future supplying peak load power to the northern grid."
Tourism/Backpackers/Worker Shortage:
$63 million has been announced over 3 years to accelerate international tourist and backpacker arrivals through targeted marketing. The Government will also boost the number of Working Holiday Makers through a one-off 30 percent increase across all country caps in 2022-23.
"This is excellent.  We called for a targeted campaign and the Government has delivered. We need backpackers to work in our pubs, farms and tourism operations," he said.
"However, the UK free trade deal means that UK backpackers don't have to work on farms or regional areas to extend their visas and this should be overturned."
Other Key Funding announcements relevant to the Kennedy Electorate: –
$20 million for pest and weeds. – $15.4 million to support Agricultural Shows societies. – $12.4 million in 2022-23 to the Great Barrier Reef Marine Park Authority to extend fee relief to local tourism businesses impacted by the COVID-19 pandemic. $10.0 million over two years for the Journalist (Cadetship and Training) Fund to support broadcasters and publishers to hire cadets and journalists to support public interest news in the regions.
Donate Now
Change starts with you